TOP > Scope of activities > Energy

Besides covering ports in Japan, we have a far-flung international network that extends to Europe, Africa, Asia, and the Americas and provide a stable supply of quality fuel. Based on the know-how retained through over half a century's experience in the oil market, our Energy Business Department exports and imports oil products and provides fuels to gas stations, factories, and to ocean-going ships, through our own tanks.

Through the past years, starting with Taiyo Fishing Co. (now a member of Maruha Nichiro Group), we've provided fuel oil to major fishery companies. Our reliable network backed by our experience enables us to deliver marine fuel to ships throughout the world.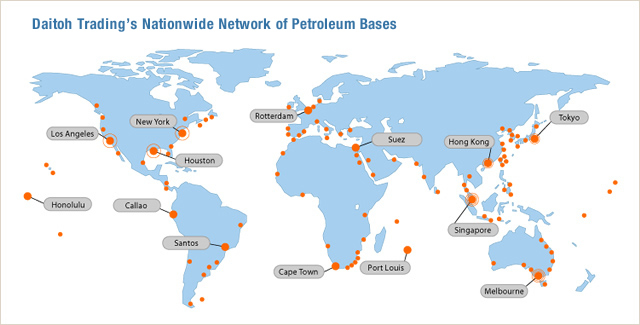 We have a network of oil bases stretching from Otaru in the North to Kagoshima in the South, and a sales network of Daitoh's affiliated companies such as Hokutoh Oil (Hokkaido Area), and Hayashikane Oil (Kinki,Shikoku,Chugoku and Kyushu Areas). We provide timely supply of fuels and lubricant oils to factories with those networks.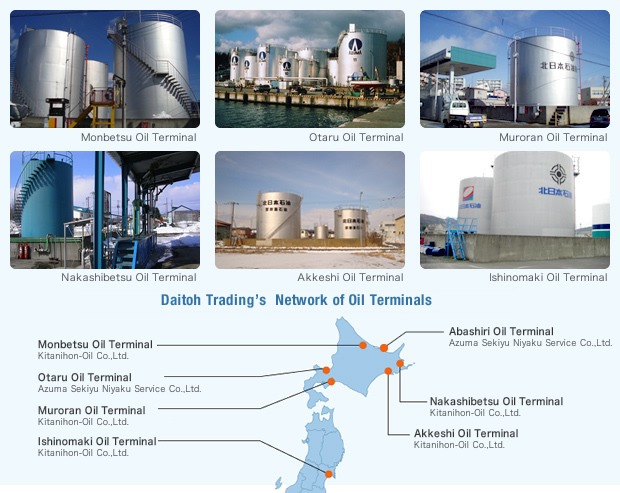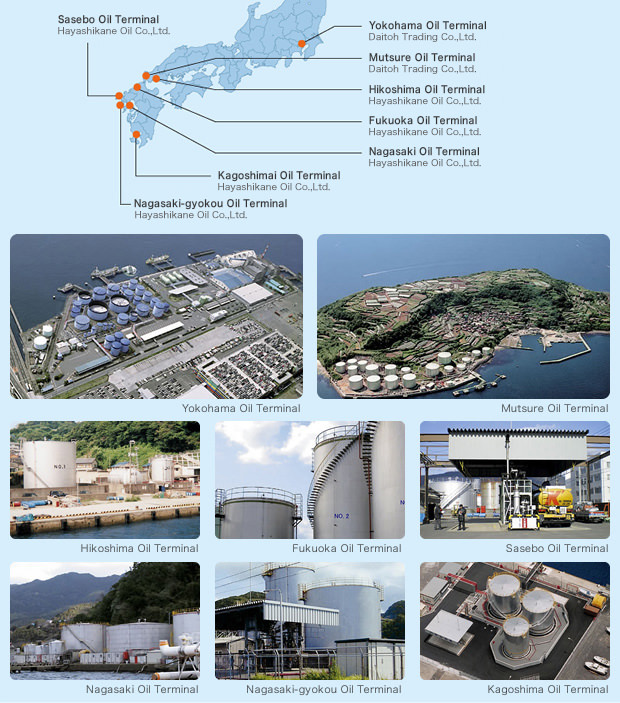 Hayashikane Oil operates gas stations around Kyushu, Chugoku, and Kinki areas, and supports enjoyable car life.
Harbor Nagasaki SS
(Hayashikane Oil)

Chuzan Central SS
(Hayashikane Oil)

Dr.Drive EAON MALL-mae SS
(Hayashikane Oil)
Dr.Drive Motofunemachi SS
(Hayashikane Oil)

Self Torius-mae SS
(Hayashikane Oil)

Self Suminoe Park SS
(Hayashikane Oil)

Dai-Ichi Gas provides city gas to 2,400 homes in the southern Nagasaki City and is selling LPG, in order to attain comfortable life and "Safety, and Reliance" for our customers.
Dai-Ichi Gas Co.'s Main Office

Dai-Ichi Gas's LPG tanks

Hayashikane Energy sells high-pressure gas for industry use and gas for welding, as well as production and sales of related apparatus.
Hayashikane Energy Co.,Ltd.'s Main Office

Hayashikane Energy's LPG tanks