TOP > Compliance > Top Commitment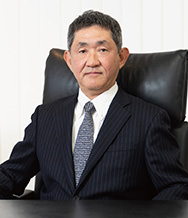 We are grateful to announce that, in August 2012, Daitoh Trading celebrated its 65th anniversary. We believe that the tireless efforts of our officers and employees, the trust and faith of our partners, and our stakeholders had driven us to our prosperity to today.
Many scandals and ethical misconducts surround us which shows us that, without being able to meet the expectations of the stakeholders, trust and faith once lost, even the most glorious history or tradition and even the most highly reputed corporate culture or outstanding brand cannot keep the company alive. Compliance management is becoming a fundamental principle that is essential for the sustainable development of the company.
Starting two years ago, we have been taking actions towards sustainable growth and expansion of corporate values throughout the entire Daitoh Trading Group, based on the mid-term management plan. As a milestone for the 65th anniversary, we, as Daitoh Trading Group, hereby declare compliance as the focus of our management policy and establishing the "Daitoh Trading Group Compliance and Code of Conduct."
This Code represents the Group's roadmap with which we, together with our group companies, share the values of compliance including our corporate ethics and our commitment to meet the expectations and demands of our stakeholders. In addition to the existing compliance committee, we have established a new compliance promotion committee consisting mainly of managers, to provide continuous training and offer awareness campaigns for officers and employees in each business unit to instill greater awareness within each individual.
Daitoh Trading and its group companies will continue to work towards gaining further trust and faith of our stakeholders, and meeting their expectations through our business activities to become a group that is known to serve the society well.
April 1, 2013

Yoshiro Nakabe
President
Daitoh Trading Co.,Ltd.