TOP > Company Overview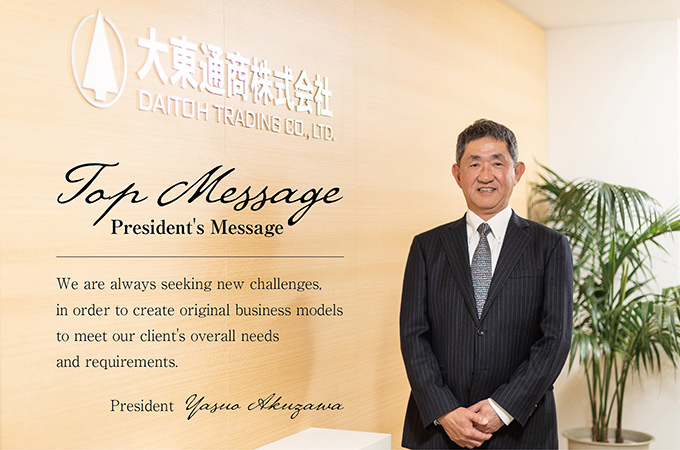 Since created in 1947 as a stable provide of ocean shipping vessels' fuels for Taiyo Fishing Co. (now Maruha Nichiro Corporation), we gradually expanded from the fields of trade and insurance to oil, marine transport, real estate and staffing. In all of these fields, our activities are imbued with the spirit of advancement to the next stage in keeping with our constant quest to meet the demands of the times and pursue new currents in business.
What drives us is credentials retained through our business achievements of long years.
Our mission is to continue to challenge, to create new business models of our own, and to respond to our customers' and the society's needs. For that purpose, we must go beyond the framework of a mere trading company. We think it is necessary to deepen our business and develop our business according to the times, preceding the next generation.
Now we are seeing a big changing time in social and economic environment. We believe the company is established by its members. We regard each person's imaginations and challenging minds as precious, expect to cope with the changes, to create new values, and to lead the next generation. a We also make our all efforts to continue to attain a sustainable growth, in coexistence of the society, because the company' s value to the society correspond to the social contribution. We at Daitoh Trading continue to work as a whole group, respond to the next generation's needs, and strive to create new values for the future.
President Yoshiro Nakabe
Career (curriculum vitae)
March 1982
Graduated from Keio University, Law Department
April 1982
Entered Mitsubishi Trust Bank Co. (Mitsubishi UFJ Trust and Banking Corporation)
August 1987
Entered Daitoh Trading Co.,Ltd.
June 2000
Inaugurated as the company's President (to the present)
June 2009
Inaugurated as director of Maruha Nichiro Holdings
(position held to the present; now Maruha Nichiro Corporation)

Trade Name
Daitoh Trading Co.,Ltd.
Head Office
Ichigaya Daitoh Building, 6-3, Ichigayadaimachi, Shinjuku-ku, 162-0066 Tokyo
Established
28 August 1947
Capital
2,000 million yen
Major Corporate Shareholders
NA HOLDINGS Co.,Ltd.
Maruha Nichiro Corporation
Hayashikane Sangyo Co.,Ltd.
Directors

| | | |
| --- | --- | --- |
| President | Yoshiro | Nakabe |
| Executive Senior Managing Director | Yasuo | Akuzawa |
| Senior Managing Director | Toshihiro | Nakazawa |
| Director | Kazutake | Takada |
| Director | Toyohiko | Goto |
| Director | Makoto | Iwanaga |
| Director | Yoshiko | Tonoike |
| Auditor | Noboru | Sagano |
| Auditor | Masahiro | Kawamura |
| Auditor | Seiichi | Hiroshima |

Group Operational Dynamics
March 2020
March 2021
March 2022
Sales
105,341 million yen
93,906 million yen
98,436 million yen
Number of employees
661
649
598
(Excluding 430 temporary employees)
(Excluding 402 temporary employees)
(Excluding 594 temporary employees)
Primary Banks
MUFG Bank, Ltd.
Mizuho Bank, Ltd
The Shoko Chukin Bank,Ltd.
The Norinchukin Bank
The Yamaguchi Bank, Ltd.
Sumitomo Mitsui Banking Corporation
Sumitomo Mitsui Trust Bank,Limited
(Note)

The Company has applied the "Accounting Standard for Revenue Recognition" (ASBJ Statement No. 29),
from the beginning of the fiscal year ended March 31, 2022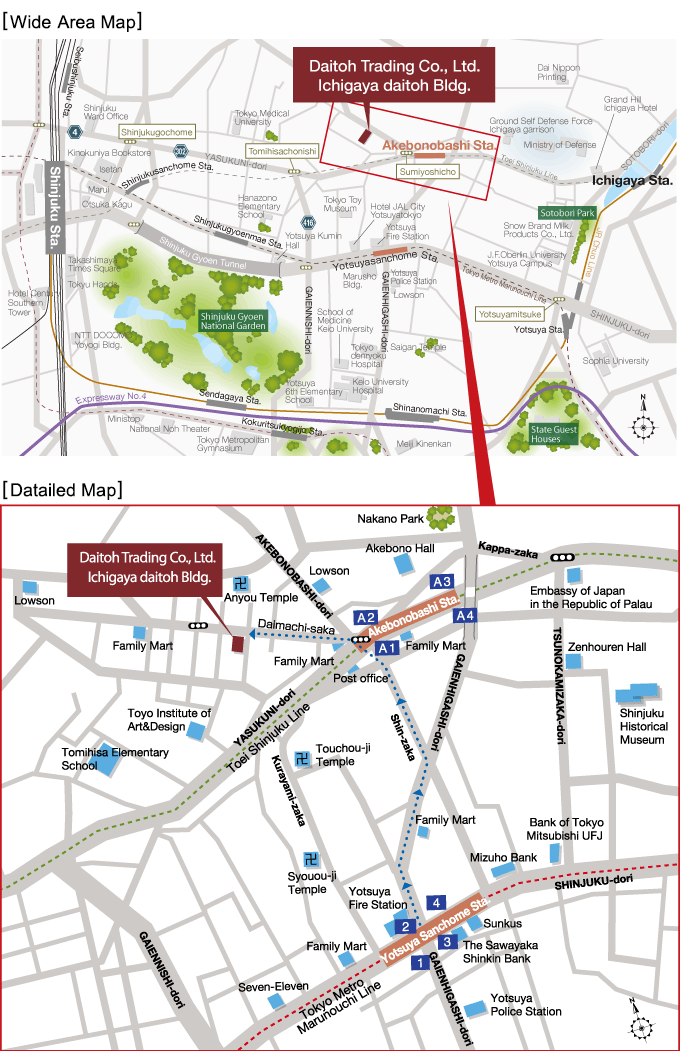 Daitoh Trading Co.,Ltd.
Public transportation:

8 min. walk from Yotsuta Sanchome Station Exit 2 on the Tokyo Metro Marunouchi Line
3 min. walk from Akebonobashi Station Exit A1 or A2 on the Toei Shinjuku Line

Reception:

General reception is located on floor B1.
Access to Yotsuya Sanchome Station from major stations
5 min. (riding time) from Shinjuku Station on the Tokyo Metro Marunouchi Line
14 min. (riding time) from Tokyo Station on the Tokyo Metro Marunouchi Line
Access to Akebonobashi Station from major stations
3 min. (riding time) from Shinjuku Station on the Toei Shinjuku Line
7 min. (riding time) from Otemachi Station on the Toei Mita Line, transfer to the Toei Shinjuku Line at Jimbocho Station
8 min. (riding time) from Shibuya Station on the Tokyo Metro Fukutoshin Line, transfer to the Toei Shinjuku Line at Shinjuku-sanchome Station

Daitoh Trading Co.,Ltd.
General Affairs Dept. Tel. 03-5919-6100